Main Content Starts Here, tab to start navigating
Bar Nacarat
Slide 1 of 15
Slide 2 of 15
Slide 3 of 15
Slide 4 of 15
Slide 5 of 15
Slide 6 of 15
Slide 7 of 15
Slide 8 of 15
Slide 9 of 15
Slide 10 of 15
Slide 11 of 15
Slide 12 of 15
Slide 13 of 15
Slide 14 of 15
Slide 15 of 15
Terrace & Bar
Terrace
We don't just contemplate Montreal's golden hour: We fully immerse ourselves in it. From our terrace overlooking Place Ville-Marie, itself offering a breathtaking view of the Mont Royal, escape downtown's buzzing streets and dive into an uplifting atmosphere fuelled by our DJs. Our summer signature cocktails are the work of our senior mixologists, whose reputation is renowned all over the city. Let our Chef treat you to seasonal dishes, BBQ grills or sharing platters. This summer, we'll be popping bottles of Champagne from the most beautiful rooftop in downtown.

If it rains, we open the indoor bar
For groups of more than 10 people, please contact us by e-mail
Book a table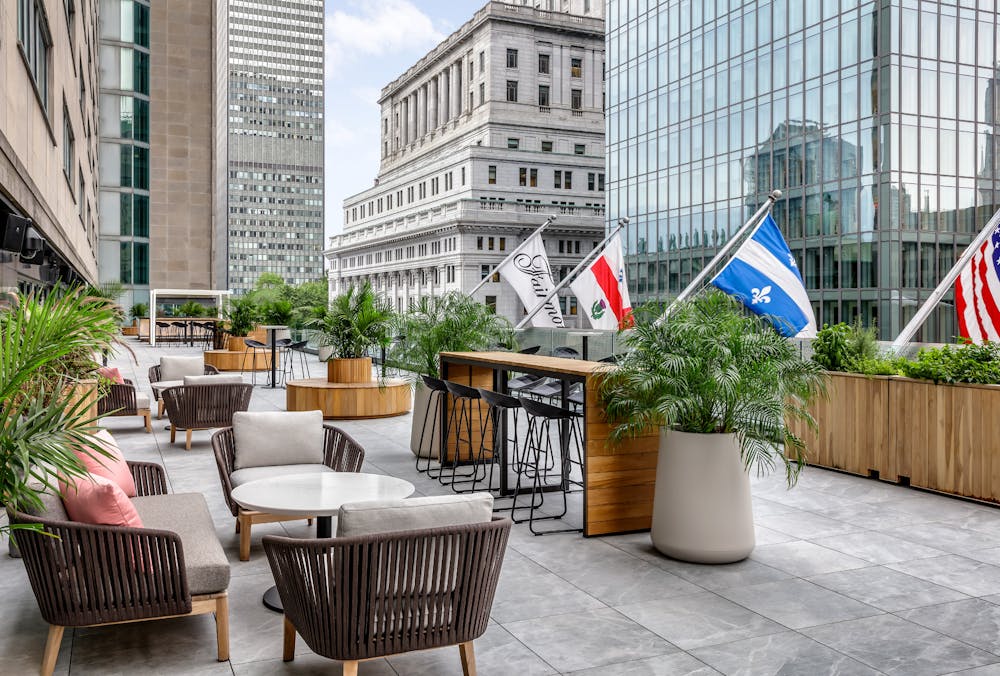 Bar
The atmosphere draws its inspiration from the fusion between the glam rock era of Ziggy Stardust and the modernity of the 21st century. Sensual and sophisticated, the bar transcends an electrifying energy. Its name designates vibrant shades of orange-red. Behind the counter, artists master liquids as chefs do with food. The menu also features a selection of local and seasonal microbrewery beers highlighting the prolific brewing industry in the metropolitan area. Our bar serves spirits from the finest distilleries. A menu of small and original dishes is offered according to the season.
For groups of more than 10 people, please contact us by e-mail
The indoor bar is closed until the end of the summer, except in case of rain
Book your table
Slide 1 of 2
Slide 2 of 2
About
The Nacarat concept encourages spontaneity and improvisation based on the tastes of each client and the inspiration of the moment. As masters of their craft, our expert mixologists give free rein to their imagination to create outstanding cocktails using both traditional and experimental techniques.

Become an ALL loyalty member and cumulate points when you visit our bar to benefit from exclusive offers exclusively reserved for our members.
Grégoire

Senior Mixologist

Nabil

Senior Mixologist

Bonaventure

Senior Mixologist
Slide 1 of 3
Slide 2 of 3
Slide 3 of 3
Contact Us
Send us a message and we'll get back to you as soon as possible. We look forward to hearing from you.

If you are passionate about a career at Nacarat, please visit our careers page.